Navajo Prep looks forward to welcoming you on campus. Our goal is to empower you through the admissions process and to make sure that Navajo Prep is the right fit for you. Our selection process emphasizes students who would most benefit from a college preparatory program for grades 9th – 12th.
If you are considering Navajo Prep, now is the time to apply! Native and Non-Native students are welcome.
Meet our Admissions Coordinator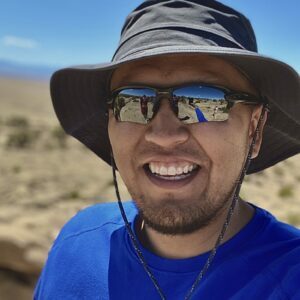 Jeffrey Tome was born and raised in Shiprock, NM. He joined the Navajo Prep family in 2021 and would love to get to know you and your family. His interests include playing basketball, playing volleyball and watching anything related to sports. He graduated from Shiprock High School in 2006 and ventured off to college at San Juan College and New Mexico Highlands University. At Highlands, he received his Master's in Social Work and has been in the field of Social Work for 12 years. His prior experience includes internships at Northern Navajo Medical Center, Childhaven, and Teen Life Center. Other experiences include five years at Central Consolidated School District as a School Social Worker and SPED Teacher. Lastly, he was a Social Worker/Counselor at SASI School in Shiprock. Those are some experiences that have led him to Prep.
He also coaches boys basketball as the assistant for Varsity, JV & C team coach. Please reach out to Mr. Tome for any questions regarding admissions or if you just want to say "hi" or follow up on anything. He wishes you good luck on your journey to becoming an Eagle.
ATTEND NPS DISCOVERY DAYS
Call our Admissions, Retention & Recruitment Coordinator, Jeffrey Tome at 505-326-6571 Ext 121, to register for Navajo Prep's Discovery Days, which will be held in person on the below dates. You will have the opportunity to explore campus, meet staff, and complete your application requirements!
Thursday & Friday: December 9-10, 2022
Thursday & Friday: February 2-3, 2023
Thursday & Friday: March 30-31, 2023