Residential Behavioral Health & Counseling Programs
The Student Support Specialist, Anthony Smith, works with the residential advisors and the academic staff to provide support for students.
The Student Support Specialist is available to all students and is responsible for planning and implementing a comprehensive behavioral health program for students that includes: prevention programs, support activities, early interventions and crisis response. Parents are responsible to notify the Student Support Specialist and the Dean of Student Affairs of any changes or situations that may be stressful for a student, such as family emergencies, illness, divorce, death, or abuse. This information is important to help us work with a student and will be treated with confidentiality.
---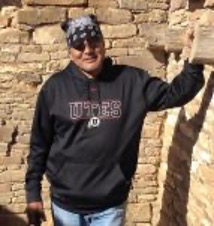 Anthony Smith
Student Support Specialist
asmith@navajoprep.com | 505-330-9411
Anthony Smith is Navajo/Diné from Farmington, NM; the Land of Enchantment. His family is from Kimbeto, NM and his clans are Naakaii Dine'é; Kinyaa'áanii; Bit'ahnii and Filipino. He was adopted into Northern Ute Family and Oglala Lakota Nation and became Sundancer. He worked with other Native practitioners from different nations including Navajo. He has a Master's degree in Social Work from the University of Utah and is a licensed Social Worker in the state of New Mexico. He is certified as a trauma informed counselor, QPR, MST and has been a practicing therapist for the American Indian populations and other underserved populations for 25 years. He is a practitioner in traditional ways. He has worked with all age groups in the local communities from Arizona, New Mexico and Utah. His area of expertise is working with youth and families to stabilize, set goals, work on healing and to recognize and embrace their cultural identities.
For emergency situations, please contact Anthony Smith, Student Support Specialist or Shawna Becenti, Head of School.
---
Does someone you know need help? Do you know someone causing problems? Fill out this confidential form.
This form is for non-emergency situations IF THIS IS AN EMERGENCY: CALL 911 IMMEDIATELY!
For non-emergency call: 505-330-9411
Please make a report if you encounter a person of concern whose behavior interferes with academic instruction and/or is a safety concern to students, staff, or property. Warning signs, protocol and guidelines are in the Behavioral Health Policy Handbook. Fill out the form to submit a report that will go to the Mental Health – Student Assistance Team (MHSAT).